­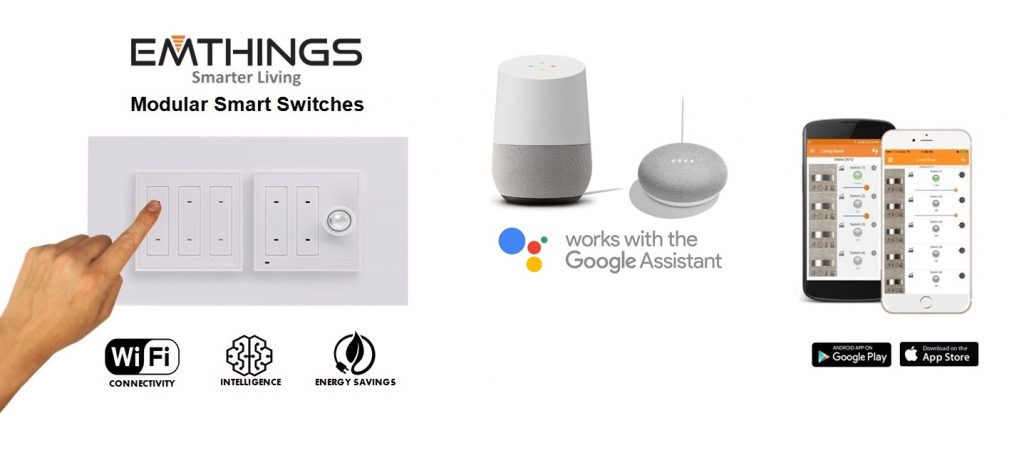 Control your home lighting and appliances through hands-free voice commands. EMTHINGS works with Google Home devices and Google Assistant from Android Phones. 
­
Prepare Smart Switches Names for Voice Commands using EMTHINGS App
You will be required to use the EMTHINGS App for Android  or iOS to setup and connect with your EMTHINGS devices using your home WiFi network.  If you have already setup a device with EMTHINGS App, you don't need to setup again.
Once the device is setup and online, specify a unique name by which a switch module can be addressed through voice commands. For this, you need to set a unique name of the Switch Module (like "Living Room") using EMTHINGS App.  You also need to give a unique name to every switch point for the lighting or appliance it is controlling. For example, a switch name can be "Fan", "Light", "TV", and "AC" etc.
Link EMTHINGS with Google Home Assistant
Download the Google Home App on your mobile device
Open the Google Home and tap on "Add" icon
Now tap on "Set up device" . From the Set up page, tap on "Have something already setup?"  . This will list all the devices that work with Google
Now look/search for EMTHINGS and tap on it. This will take you to EMTHINGS authentication page 
Enter your EMTHINGS user email and password to authenticate and create linking between Google Home and EMTHINGS
Once successfully linked, the Google Home App will discover your devices and list them to start using with Google Home
If you prefer, you could group the devices for specific room as well
Control EMTHINGS with Google Assistant 
Once your EMTHINGS action is linked with your Google Home , you can see your EMTHINGS devices listed in Google Home App. To control your devices, say "Okay, Google. Turn on/off my <device switch name>." If a Switch Module name is "Bedroom" and the switch name is "Light 1", the addressable name would be "Bedroom Light 1". To turn on the switch with voice command, you would say "Okay Google, turn on the Bedroom Light 1". Few examples:
To turn on Living Room Fan, say "Okay Google, turn on Living Room Fan"
To turn off Living Room AC, say "Hey Google, turn off Living Room AC"
To dim the Bedroom Light, say "Hey Google, set the Bedroom Light to 50 percent"
To increase the Kitchen Light, say "Okay Google, brighten the Kitchen Light by 20 percent"
Find more help and and tips from Google Home Help.